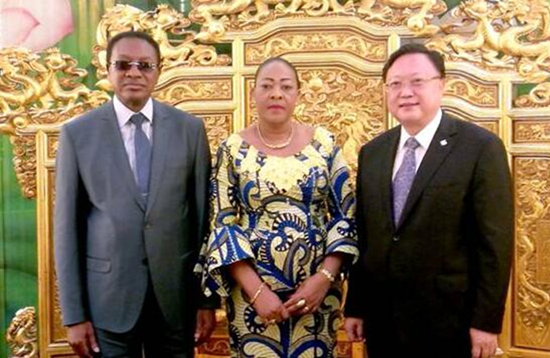 Prime Minister Chibala and his wife took a photo with Chairman Wang Tongzhou
On September 2, 2018, Wang Tongzhou, Chairman of China Nonferrous Metal Mining (Group) Co., Ltd. (CNMC) met with His Excellency Bruno Chibala, Prime Minister of Democratic Republic of the Congo (DRC), and his wife who came to Beijing to attend the Beijing Summit of the Forum on China-Africa Cooperation.
Chairman Wang Tongzhou expressed his gratitude to Prime Minister Bruno Chibala and the Congolese government for their long-term support and assistance to CNMC in its development. He said that in recent years, friendly relations and cooperation between China and DRC have developed smoothly. The friendly cooperation in infrastructure construction, energy resources development, and human exchanges and cooperation has developed in depth. In particular, through the recent visit to DRC, Mr. Wang Tongzhou has gained an in-depth understanding of the investment and development environment of DRC, deeply felt the positive efforts of the Congolese government and people to develop the friendship between the two countries, and strengthened the determination and confidence of CNMC in its further development in DRC. Chairman Wang Tongzhou said that since 2000, the Forum on China-Africa Cooperation has become an effective mechanism for pragmatic cooperation between China and African countries and has also built an important platform for exchanges and cooperation between enterprises from the two countries. CNMC will adhere to the spirit of the Beijing Summit, the principle of achieving shared growth through discussion and collaboration, the correct concept of righteousness, true and sincere cooperation, actively respond to the "Belt and Road" initiative, continue to develop business, actively fulfill social responsibilities, and contribute to the economic and social development of DRC.
Prime Minister Chibala said that the Beijing Summit of the Forum on China-Africa Cooperation will carry out overall planning for China-Africa cooperation from a strategic and long-term perspective, further strengthen China-Africa and China-Congo relations, build a closer community of a shared future between China and Africa, benefit the people in Africa and China. Mutually beneficial cooperation at the enterprise level is an important support for the implementation of the spirit of the summit and the promotion of China-Congo friendship. Over the years, CNMC has unswervingly developed its business in Congo, actively innovated pragmatic cooperation modes, and brought tangible benefits to the people in DRC in terms of employment and infrastructure construction, and made great contributions to maintaining friendly relations between China and DRC. The Prime Minister and DRC government will follow the road map developed at the summit as always, support Chinese companies including CNMC to invest in DRC and achieve win-win cooperation in a wider range of areas.
Lennard Shek Okitundu, First Deputy Prime Minister and Minister of Foreign Affairs and Regional Integration of DRC, senior government officials, Chairman of DRC National Mining Corporation, relevant leaders of CNMC, relevant departments and leaders of CNMC DRC Company attended the meeting.