The fourth International Law Enforcement Cooperation Forum on Secure Corridor of the New Eurasian Land Bridge themed Working together to open a new chapter in law enforcement capacity building was held in Lianyungang of Jiangsu Province from Sep.11th to Sep.13th, 2018.
Zambia-China Economic and Trade Cooperation Zone invested by CNMC, together with the other 9 projects, were awarded Excellent Overseas Project Prize. Mr. Yan Diyong, the vice-president of CNMC, introduced the overseas projects of CNMC and put forward suggestion on how to improve security through more stringent measures and multi-party coordination. He introduced that CNMC is one of the earliest company in the nonferrous metal industry to go overseas to carry out international cooperation and its business is spread over eighty countries and regions including Russia, Kazakhstan, Tajikistan and Kyrgyzstan. CNMC has followed the important thought of President Xi Jinping about jointly building a community of a shared future, the social responsibility concept of releasing the value of sources to co-build social harmony, the safety concept of promoting development through safety and reinforcing safety with development. Up to now, CNMC has built 8 mines, 7 smelters and 1 overseas economic and trade cooperation zone.
In the sub-forum themed safe development and shared prosperity, Mr.Yan shared CNMC's practices in safe production, professional health and green development with the leaders and experts present, which drew positive responses and acclamation from Chinese and foreign guests. Mr. Yan dealt a heavy blow on the wrong accusations about Chinese enterprising plundering resources and destroying the environment overseas by sharing the achievements of CNMC in implementing green and safe development. He pointed out that CNMC pays high attention to ecological protection during the past 35 years of overseas development of resources. CNMC has incorporated safe production, professional health and environmental protection into every phase of resource development including project validation to project implementation. He shared CNMC's green development experience with other participants from the following four perspectives. First, CNMC implements Presidents' Xi Jiping's thought of eco-civilization by adopting the philosophy of active safety, active environmental protection and ecological safety and actively undertakes social responsibility as a central SOE. Second, CNMC implements localization strategy and formulates the community of shared responsibility, shared interest and shared future with host country. Third, the forceful supervision from the host country is the most important tool to guard against accidents in ecology, environmental protection and safety. Fourth, CNMC actively cultivates green concept by energy conservation, emission reduction and environmental protection.
Mr. Yan also reported to the deputy chairman of SASAC Shen Ying who also participated in the forum CNMC's practices in overseas investment management, safe production and risk control.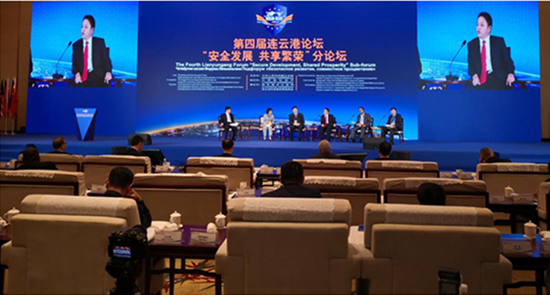 Mr. Yan shares CNMC's practices in the panel discussion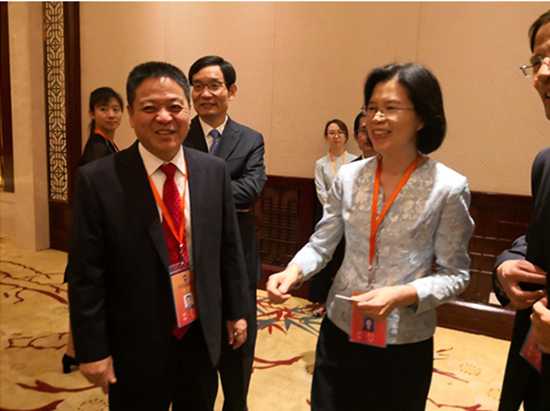 Mr. Yan reported to the deputy chairman of SASAC, Madam Shen Ying