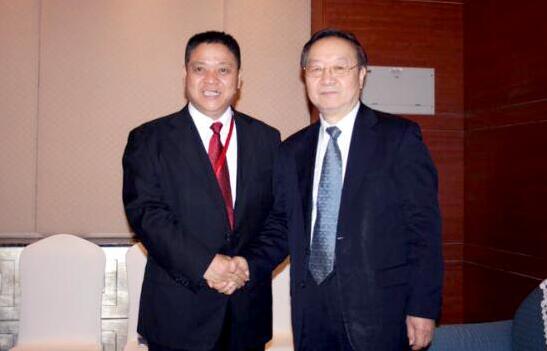 The 1st International Cooperation Forum for Cities and Industries under the Belt and Road Initiative was held in Shenzhen on Jan.17, 2018. The vice-president of CNMC, Mr. Yan Diyong was invited to attend the forum and delivered a keynote speech on how to achieve coordinated development through innovation in cooperation models when carrying out industrial cooperation. He held wide discussions with other participants on other topics of common interest.
Mr. Yan Diyong introduced CNMC's experience in going out to participate in Belt and Road initiative and shared his observations about how to catch opportunities in the new era so as to achieve common prosperity. He pointed out that Belt and Road Initiative proposed by Secretary General Mr. Xi Jinping showed the way for investment attraction and outbound investment for Chinese companies. The 19th national congress of the CPC made important strategic deployments on how to strengthen the opening up policy by focusing on Belt and Road Initiative and how to make China stronger with foreign trade. All these important strategic decisions injected new vitality into deeper involvement of Chinese companies in Belt and Road Initiative. CNMC will bear in mind the missions and responsibilities as an state-owned enterprise and continue to explore into new models and new pathways for foreign economic cooperation so as to make due contributions to the implementation of the initiative and wide international cooperation in nonferrous metals industry.
Mr. Yan Diyong reported to Mr. Li Yizhong, member of the Standing Committee of the CPPCC National Committee, the deputy director of the economic committee, the former Secretary of the SASAC, the former Minister of the Ministry of industry and information technology and President of China Federation of Industrial Economics, the latest progress of CNMC's investment in development of resources in central and southern Africa, in D.R.C. in particular and asked for continuous support from CFIE. Mr. Li Yizhong talked about the projects CNMC development in Zambia and hailed CNMC as the pioneer in outbound investment in nonferrous metal industry and an example for other Chinese companies in implementing Belt and Road Initiative.
The forums was co-organized by China Federation of Industrial Economics and Development Research Center of Shenzhen Municipal Government with City Partnership, Industrial Cooperation, Think Tank Link as its theme. The participants held in-depth discussions on how to build a new platform for international cooperation, promote the innovation and cooperation in economic and trade areas and build a new type of city partnership. The president of the Chinese Public Diplomacy Association and the former Minister of foreign affairs Li Zhaoxing, the Standing Committee of the Shenzhen municipal Party committee and the deputy mayor Liu Qingsheng, together with others, attended the forum and made keynote speeches. There are nearly 300 participants from political, academic circles and industries from 23 countries and regions along the belt and road.