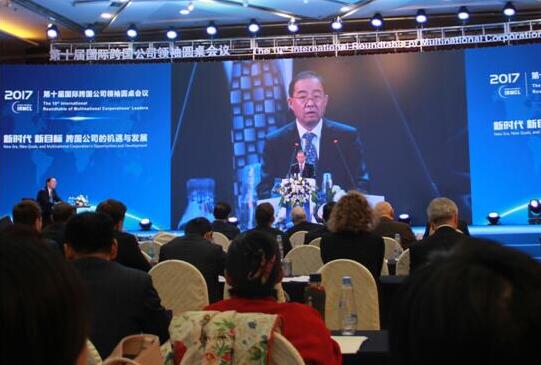 On Dec.7, 2017, the 10th International Roundtable of Multinational Corporation Leaders was held in Beijing. CNMC President Mr. Zhang Keli attended the meeting and delivered a keynote speech titled Deeply Involved in Belt and Road Initiative so as to Achieve Inclusive Growth. Mr. Zhang Keli held wide discussions with other participants on topics of common interest.
Mr. Zhang Keli pointed out in his speech that the 19th National Congress of the CPC clearly showed the Chinese corporations the way to bring in partners and go out to seek cooperation and injected new vitality to their future development. A series of major forums such as dialogue between the CPC and other political parties from different countries and the Belt and Road Forum gave CNMC the opportunity to have a better understanding of the major concepts such as to jointly build a community of the shared future for all mankind, to go global strategy and Belt and Road Initiative. At present, CNMC is doing business in about 40 nonferrous metals in over 80 countries and regions in the world, 30 of which are countries along the belt and road.
In his keynote speech, President Zhang Keli introduced CNMC's experience in implementing its inclusive growth strategy when going global. CNMC promoted inclusive joint development by taking successful experience of China in construction of industrial zones to Zambia and aligning the development concepts of China featuring innovation, coordination, greenness, openness and co-sharing with the open economic policies of Zambia so as to contribute Chinese wisdom to the release of economic potential of Zambia. Second, CNMC shared cooperation fruit with other countries in an inclusive manner by taking advantageous manufacturing capacity, key technologies and whole sets of equipment to foreign countries so as to address their bottleneck issues in their development paths with Chinese solution. Third, CNMC promoted the inclusive co-existence of values of different countries by implementing social responsibilities, actively integrating itself to the local community, addressing major concerns of the public of these countries and injecting Chinese feelings into the local value. President Zhang Keli continued to say that implementation of Belt and Road Initiative was always on the way. CNMC would continue to make exploration into new cooperation model and pathway so as to enhance its role in value chain of global mining industry and make more contributions to the building of a community of the shared fate for all mankind.
The roundtable was jointly organized by China International Council for the Promotion of Multinational Corporations, United Nations Development Programme (UNDP), United Nations Conference on Trade and Development (UNCTAD), United Nations Industrial Development Organization (UNIDO), United Nations Environment Programme (UNEP) and United Nations Global Compact Office and United Nations Peace University. The theme for this year was New Era, New Target, Opportunities and Development for multinational corporations. António Guterres, UN Secretary-General, sent a congratulatory letter. There were over 200 people participating in the roundtable, including Mr. Zheng Wantong, the Chairman of China International Council for the Promotion of Multinational Corporations and the organization committee of the roundtable, Mr. Zhou Tienong, the honorary chairman of the council, ambassadors, heads of trade and investment promotion agencies and CEOs of multinational corporations.